NEW YEARS @ COLONNADE HOTEL
•
This year TOP SHELF ENTERTAINMENT will be hosting a huge New Years Eve party at the Colonnade Hotel in Boston, MA.  Please click the link below if you would like to attend this party.  This will be just as crazy as our 1200+ person new year party we had last year. Hope to see all of you there!
Ticket sales will be limited this year so make sure you get you and your friends tickets while they are still available and cheap!
ACT FAST BEFORE THEY SELL OUT!
TICKETS FOR NYE AT THE COLONNADE HOTEL – BOSTON, MA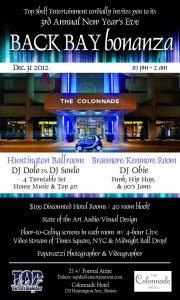 Leave a comment